---
---
Testimonial
David Haresign, AIA, Partner – Bonstra | Haresign ARCHITECTS -

When the subject of Howard University – LeDroit Park comes up, I tell whoever is within earshot that Alvin Nichols is the reason "Parker Flats at the Gage School" exists. Alvin and I had worked together on many projects over the years. He respected how I did business and how we went about serving our clients. Alvin had been Fannie Mae's project executive for the Howard University – LeDroit Park Revitalization Initiative, and the University had asked him to help them find the right team to bring some of the stalled properties in the community back to life.

Alvin introduced me to the University's leadership, and the rest is history. Gage School became a project opportunity for Bonstra|Haresign, and Parker Flats became a reality for Howard University and LeDroit Park for two simple reasons: (1) Howard University respected and trusted Alvin's judgment; and (2) Alvin had the keen sense of what and who the project needed to make it happen. That's it in a nutshell. Respect. Trust. Judgment. Good sense. That's Alvin.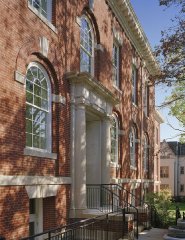 The Situation
For nearly 70 years, Gage School served the LeDroit Park and Bloomingdale neighborhoods. However, in the 1970s, Gage School closed and sat vacant for the next thirty years, as one well-intentioned revitalization effort after another ended in failure.
In 1997, Howard University launched the Howard University – LeDroit Park Initiative, an aggressive strategy to revitalize deteriorating Historic LeDroit Park and the greater Howard University community. By 2000, the LeDroit Park Initiative had taken full flight. 53 once boarded-up homes and overgrown vacant lots in the heart of the LeDroit Park Historic District had been fully renovated and occupied by new homeowners. New curbs, gutters and brick sidewalks had begun to dress up the neighborhood. And new and renovated commercial establishments dotted U Street and Georgia Avenue.
However, despite the building momentum of Howard University's Initiative, the revitalization of Gage School had failed to find wings, continuing as a haunting reminder of LeDroit Park's late 20th Century legacy of deterioration. The boarded up Gage School was a major obstacle to the University's vision of community renewal.
The Need
Convinced that it had no choice but to play a direct role in the restoration of Gage School, in 2001 Howard University acquired the property. The University's goal in acquiring Gage School was to find a partner with the creativity and capacity to pull off the massive and difficult redevelopment. Given previous failed efforts to revitalize Gage School, and the critical stage of the LeDroit Park Initiative, Howard University understood that selecting the right partner was a crucial variable in ensuring a successful Gage School redevelopment.


The Solution
Alvin Nichols was Fannie Mae's project executive for the Howard University – LeDroit Park Revitalization Initiative, and he knew the potential of Gage School to either accelerate the Initiative, or cast a shadow on its success.  So he wasn't surprised when Howard University asked that he assist in putting together a team to take on renovation its newly acquired signature properties, prominently including Gage School.
Knowing the complex restoration challenge that these properties posed to Howard University, Alvin gave considerable thought to whom he might bring to the table to work with the University on these projects. His first call was to David Haresign, of Bonstra|Haresign ARCHITECTS. Having worked with David on multiple projects over the years, Alvin knew that David had the experience, temperament and sensitivity to pull off the redevelopment of a difficult project like Gage School.
The result? David and Bonstra|Haresign ARCHITECTS designed a Gage School redevelopment strategy that became the award winning "Parker Flats at Gage School Condominiums", recognized by multiple industry and community groups as a standard-bearer for tasteful and functional adaptive reuse of a landmark historic property. Over100 years after its original opening, following more than 30-years of abandonment, the Gage School once again is an important and vital part of the LeDroit Park community.